Oviedo Boat and RV Storage
Quality Storage at a Great Price!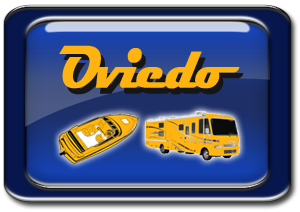 Oviedo Boat and RV Storage offers secure and affordable storage for your boat, RV or other equipment.
At Oviedo Boat and RV Storage, our goal is to provide quality storage and unequaled customer satisfaction.  Whether you need a place to store your rig right now, or you're just shopping around to make sure you'll have someplace to store what you're planning to buy, shoot us an email or give us a call.  We'll look at your needs and tell you what's available.  And we'll be happy to answer any questions you might have.  If you're local, we'd love to have you drop by and take a look around while we answer your questions.
Our SR 426 location is the former Tesinsky's Automotive shop & boat/RV storage site.   Our Slavia Rd. location is our newest location and it's HUGE! The Slavia Rd. location is still "in progress" and doesn't yet have all the intended features, but the sites are cleared and we're already renting out spaces.  So don't wait till everything's done, or there may not be any sites left!
Don't Just Think Boat and RV Storage…
…Think Outside the Box
Of course we'll store your boat or RV.  But there are many other possible uses for quality storage sites as well.  We've had people store all kinds of equipment on our sites:
Speed Boats
Ski Boats
Sailboats
Fishing Boats
Pontoon Boats
Jet Skis
Class A Motor Homes
Class B Motor Homes
Class C Motor Homes
Travel Trailers
Fifth Wheels
Pop-Up Campers

Commercial Trucks & Vans
Landscaping Trailers
Farm Equipment
Roofers' Trucks & Trailers
Motorcycle Trailers
4-Wheel Drive Trailers (with & without 4WD vehicles)
Race Car trailers
Horse Trailers (without the horses, please ;-))
Antique, Classic & Muscle Cars
Family Cars & Trucks for military families serving overseas
Etc.
Features & Benefits
Each location has a few unique features, but they both have many things in common*
24/7 access 365 days per year
Month-to-month leasing–No Contract Required!
Close to Highway 417 with connections to Interstate 4, the 408 and the Beachline

We're the same folks who have owned and operated the Autotronics repair shop on Mitchell Hammock in Oviedo since 1991.  In 2011, we bought Tesinsky Automotive.  It's located on the same piece of property on SR 426 as Oviedo Boat & RV Storage.  So you can park or prep your equipment and get your car or tow vehicle serviced while you're there.  Or have our ASE-certified mechanics give your tow vehicle a thorough pre-trip inspection, and get the peace of mind that comes from being prepared.
Oviedo Boat and RV Storage is a new addition to our business portfolio, but we're not new to business or customer satisfaction.  Check the Better Business Bureau rating and DemandForce customer reviews   for Autotronics and you'll get a good idea about our commitment to quality and customers.
We've set the bar of expectation high with our decades-long performance at Autotronics, and we're determined to achieve the same levels of quality & satisfaction with Oviedo Boat and RV storage!
" Veronica, Zack, and Hank at Oviedo Boat and RV say "THANK YOU!" to all our customers for trusting us with THEIR precious toys!
If you have any comments or questions related to Oviedo Boat and RV Storage, please send us a contact form, give us a call, or stop by.
We look forward to hearing from you!